UETDRRF004 – Perform Rescue From Live LV Panel (Includes HLTAID009 Provide CPR) | First Aid Training Brisbane
Booking is Full on Selected Date. Please select another Date option for Booking
Booking Time is over for Selected Date. Please select another Date option for Booking
UETDRRF004 Low Voltage Rescue- Brisbane – Includes HLTAID009 Provide CPR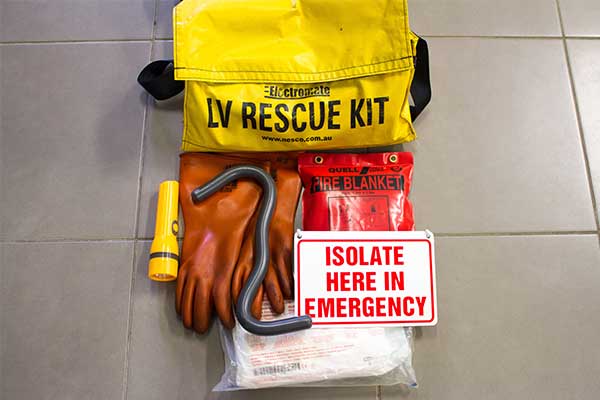 UETDRRF004 Course Summary
Perform Rescue from a Live LV Panel UETDRRF004 (also known as LVR/CPR training)
This course is conducted in conjunction with Provide Cardiopulmonary Resuscitation HLTAID009.
This course will provide participants with the skills and knowledge to effectively respond to an electrical emergency using a low voltage rescue kit and perform CPR on a casualty who has stopped breathing. Suitable for electricians needing a CPR/LVR certificate for work.
UETDRRF004 Course Content
Roles and responsibilities of the first aider

Managing unconscious casualties

Cardiopulmonary resuscitation (CPR)

Using a defibrillator

Infection control 

Use and components of an LV rescue kit
UETDRRF004 Enrolment at Kakowan Community Facility
This course is being offered by The First Aid Group, Registered Training Organisation 32268. Training and assessment is undertaken by BLS First Aid on behalf of The First Aid Group.
UETDRRF004 bookings at our Kakowan Community Facility location are made through our booking form on the right-hand side of this page. On-sites are available if you have at least 6 staff requiring the training. Please email [email protected] for on-site enquiries
When booking you should receive a confirmation email within the next few minutes. If you do not receive an email within the allocated time frame and your junk and spam folders do not have your confirmation, then please contact us directly at [email protected].
Group Training 
On-site training is also available if you have between 6 to 15 staff requiring the training. Please send an on-site enquire here.
Locations Available
Kakowan Community Facility, 2 Pine Hills Dr, Bunya QLD 4055
Duration
Pre Course learning: Nil
Course Duration: 3.5 hours face to face
Certification Validity
One (1) year from date of issue.
Entry Requirements
There are no pre-requisites for this course.
Sufficient English language and visual interpretation skills.
Aged 14 years and older
Participants under 14 years of age are required to provide a consent form complete by a legal guardian
Good mobility
Language, Literacy and Numeracy (LLN) Requirements
Participants will require suitable LLN skills to complete the following tasks/skills:
Read information from a powerpoint and whiteboard
Complete written incident report forms in English
Read and answer a multiple-choice question paper
Read and answer a short-written answer test
Listen to instructions of an Automated External Defibrillator where prompts are delivered in English
Be able to count to 30
Course Attendance
Arrive on time to class
Obey parking restrictions
Bring your Confirmation Letter as proof of registration.
Bring photographic ID
Wear comfortable clothing
Wear enclosed shoes.
Do not make up for courses that include CPR
Need to know more, read our first aid course Brisbane course participant handbook.
UETDRRF004: Requirements for Completion
Participants are required to attend 100% of this first aid training and successfully demonstrate competence in all assessment activities. Assessment results and feedback is given at the completion of training and assessment.
UETDRRF004: Statement of Attainment (SOA) is issued:
Within 21 business days after course completion

After payment has been finalised

Once students have provided a valid USI
UETDRRF004: Certification Issued
Statement of Attainment in the following units of competency:
UETDRRF004 Perform Rescue from a Live LV Panel

HLTAID009 Provide Cardiopulmonary Resuscitation
Rebooking or Refund Policy
If BLS First Aid is unable to provide the agreed training services, an alternative date can be arranged, or a full refund will be provided.  If you cancel or reschedule your training without 24 hours notice a 25% rebooking fee will be applied.
How to Get Further Information
If you have any questions, please call 0433 604 041, or email [email protected]
Reviews
Detailed Rating
| | | |
| --- | --- | --- |
| Stars 5 | | 0 |
| Stars 4 | | 0 |
| Stars 3 | | 0 |
| Stars 2 | | 0 |
| Stars 1 | | 0 |
Booking is Full on Selected Date. Please select another Date option for Booking
Booking Time is over for Selected Date. Please select another Date option for Booking